Adv. Zulifkar Malik – The story of an outstanding social activist who fought for education, unemployment, protection of orphans and injustice to the poor in Jammu and Kashmir.
JAY BHIM JAY BHARAT ,
Welcome to www.brambedkar.in India's most visited website. So today our topic is going to be a little different. Today we are going to meet one such person who has given social service a big place in his life since the age of 22. We have come to understand that he has been honored in many places for his work, as the social work done by him has often been noticed by someone.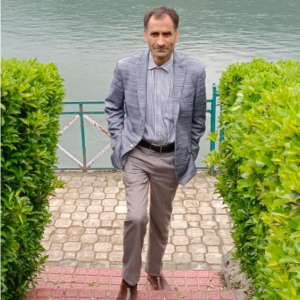 bhartiy boudh mahasangh in Delhi On the occasion of dr. Babasaheb Ambedkar's birth anniversary on 15th April 2023, the award of Ambedkar Ratna Samman 2023 was invited to those individuals from every state of India who have made great contribution to social service. Because Babasaheb's movement is reaching not only in India but also outside India through www.brambekar.in. so that's why our team was also invited by him. . Zulfiqar Malik from Jammu and Kashmir was also invited there. When we took out the information about the work of that Welles, we realized that he has a great contribution in social work. That's why we decided to write about them. So let's know about them.
Advocate Zulfiqar Malik was born on 30th December 1976 at Darhal Malkan in Rajouri district of Jammu and Kashmir. After completing his education up to 12th standard, he decided to become an advocate and completed his education by taking admission for LLB. Growing up in Jammu and Kashmir since childhood, he was very familiar with the situation there. He should have chosen LLB to fight all those situations. He was well versed on education, unemployment, poverty and injustice. That is why he participated in social work from the age of 22 years.
Zilifkar malik is a social worker, zulifkar malik was awarded many times for the outstanding contribution towards social work in Jammu And Kashmir. Zulifkar malik made significant contribution to improves the lives of people in the region. Zulifkar malik is advocate by profession, who has been engaged in social service since a very young age, he has been involved in several social initiatives, including provided job opportunities, motivates towards technical education, maintaining law and order, free food to orphans children's during the COVID pandemic. Carling out relief work during pandemic. Zulifkar malik has also created employment opportunities for thousands of people with his technology.
innovation service orientation Zulfikar malik is presently working with JAL JIVAN mission in JAMMU and KASHMIR. Municipality J&K, Health related works, sanitation, education etc. The Bhartiy Boudh Sangh Delhi honored Adv. Zulifkar Malik ( chairman national development organization J&K ) with the Dr. Ambedkar Ratn – 2023 Sanman samarambh. presented by the honorable Union minister for the rural development shri. Faggan Singh Kulestha at the NMDC Auditorium In Delhi.
If you are reading this article from Jammu and Kashmir then definitely tell us through comments. And if you have any problem regarding education and unemployment you can directly contact Zulfiqar Malik
Adv. Zulifkar Malik – 09419112014